We are pleased that the latest invitation for our "Kickback" interview was accepted by Franny Černá. Franny is the player of SK Slavia Prague and the Czech National Team. However, she was born in California and grew up in the United States. She is excellent in Czech language but as we try to provide most of our interviews primarily in the native language of our guests this is the first Kickback (in Czech: "Malá Domů") in English.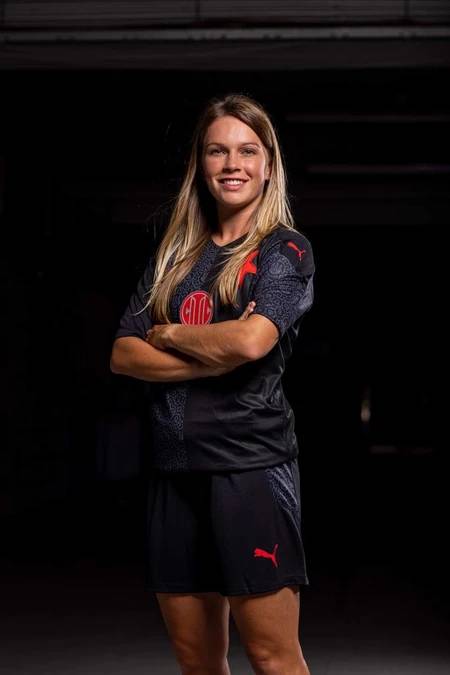 HER STORY: You was born in the famous city of Berkeley in California. Later on, you switched sunny beaches to Chicago where you studied the DePaul University and played soccer for DePaul Blue Demons, the University soccer team. And finally, in 2019 you moved to the home country of your parents and signed a contract with Slavia Prague. Could you please share with us more details about this story of yours?
"Yes so a little more about me. So both of my parents were born in the Czech Republic, but had been in the US for around 10 years when I was born. I was born in San Francisco, as that is where they lived at that point, but 3 years later when my brother was born, we moved to Berkeley, and that is where I grew up. Berkeley is a very special city as it is very diverse, liberal and environmentally conscious. Growing up there and going to school there, has definitely made me the very open-minded and accepting person that I am today. My family also did a lot of traveling when we were young, so we got to see and experience many other cultures and places and this too helped us become open-mined. We would also go to Czech Republic every summer and visit our family there as the rest of our family still lives here. I have played soccer since I was 5 years old, and so most of my life has revolved around soccer. At first I just played on a recreational team, but once I turned 9 I could go try out for a competitive club and I made it onto the local team named Mavericks Fury. There I played until I was 16 years old. Then during High School I decided that I would like to go try and play soccer in college and so I switched to a better club nearby that could give me more exposure to colleges as they played in the National League and could go to way better tournaments. The recruiting process was very frustrating at times but luckily the assistant coach from DePaul University spotted me at a National League tournament in Las Vegas and invited me to come visit their campus. I visited in May 2014 and fell in love with the school, the program and the city and verbally committed to their program on the last day of my visit. I then graduated high school in 2015 and that same summer I joined DePaul and started my life in Chicago. Chicago is an amazing city with delicious food, beautiful architecture, a great night life, lots of greenery and a beautiful waterfront as it is right on Lake Michigan. The four years that I spent there were truly wonderful, and I do miss Chicago more and more each day. In 2019 I then came here to Prague to play for Slavia Praha, and have been living here ever since. Even though I got to experience Prague when I was younger, I was never here for longer than a month and so now that I am actually living here, I have truly fallen in love with this city. The beautiful old buildings intertwined with the new and hip cafes and restaurants, make Prague so much fun. I also now get to see my grandparents very often, and have really enjoyed getting to know them a lot better. So overall I am very happy that I decided to come here to Czech, and I have made so many wonderful memories."
SOCCER DECISIONS: The women soccer is rapidly growing worldwide. We will discuss later the specific aspects of popularity of this discipline in the USA. However, why did you decide to play soccer on professional level at the first point? What was the main reasons to chooses DePaul Blue Demons and how difficult it was for Slavia to persuade you to sign a contract with them?
"I decided to go to DePaul University because of their great soccer program which I felt would be a good fit for me, the school itself was very good so I could pursue my health degree, and Chicago is an amazing city so I thought it would be very exciting to live there. In the end it was a wonderful decision and I really enjoyed my 4 years there. And since I was able to have a very successful soccer career there as well (I have the second highest amount of points in program history), I wanted to continue playing. I had some credits from high school which would let me graduate early and this would give me the time to go and try to play with some team for the spring part of their season. I thought this would be a great way to see if I was good enough for professional soccer and if it was something I would want to try to do for some years to come. It was perfect timing because December of 2018 (I was to graduate in 2019) we actually went to spend Christmas in Prague with my grandparents. So I reached out to both Slavia and Sparta, to see if they would be interested. I was able to meet with both of them and they both did end up offering me contracts, which of course made my decision harder as I wasn't expecting that. I ended up choosing Slavia because I knew a lot of the girls on the team already from my time with the youth national team, and so just felt like I would be more comfortable there."
TRAINING: Couple of weeks ago we had an interview with Katka Svitková from West Ham United FC. She admitted that differences between training sessions and possibilities in Slavia and teams of the Women Super League are really significant. How would you compere trainings now in Prague to the ones you had in DePail Blue Demons? Where and how can we (Czechs) get better and stronger?
"I do agree with Kacka that the resources that we have here in Czech, are still pretty limited compared with what other countries have. I think that in terms of training, they are pretty similar in terms of what we do in the soccer part. I think the biggest difference is in all of the resources that we had outside of the trainings. We had a really great athletic room in which we had ice baths and warm baths, recovery pants, game ready's, massage guns and athletic trainers and physical therapists that were always there to help us with anything we would need. We could go there whenever and use anything that we needed. I think that the recovery side of sports is very important, and so to be able to properly take care of our bodies was very beneficial. We also had a weight room that we could go to if we ever wanted to do some strength training or even any small exercises on our own. Keeping your body healthy and strong is obviously important when playing a sport, so all of these resources helped us to perform our best. I think that these extra resources would be very beneficial here as well and would help to grow the game. So I think that this would be the best way that Czechs can get better and so more should be invested in women's soccer."
EUROPE vs USA: It is quite unique not to see a representant of the USA in the FIFA Women's World Player of the Year results neither in single players nor in teams. We are used to names like Orlando Pride, Huston Dash or Alex Morgan and Carli Lloyd. The results for 2020 shows only European names. Do you consider the European women soccer catching the great US one? Based on your personal experience and information from your friends playing the NWSL where do you see the main differences between European and American soccer styles in women competitions?
"I definitely think that Europe is catching up to the US and in some ways already surpassing it. I think that European soccer has always had a lot of quality, but just not the most support. With teams now getting more money, they can support their players more and this then helps the players perform at their best. With players now being able to oftentimes focus solely on soccer and not having to worry about having outside jobs, helps the players and teams showcase the great skill that was always here. Plus I think that some of the leagues here are even more quality than the NWSL and so players playing in them can get even better and this is the reason that some of the top US players are now coming to play here as well. So I think that with such strong players and such strong teams here, it is no surprise that all of the players up for the FIFA Women's World Player of the Year award were European. When it comes to the difference in soccer styles, the biggest difference is the focus on athleticism. I think that in the US there is a big desire for fast and fit girls. When I was talking to some colleges before deciding on DePaul, a lot of them said that they are looking for fast and athletic girls and not necessarily the most skilled ones. They felt that they can help polish their skills, but that the natural athleticism was the most important thing. And even at DePaul there was a huge focus on fitness and we did so much running throughout the four years. I also even see it in the NWSL in terms of which players are drafted and which ones are not. And from what I hear from my friends playing in the NWSL there is definitely a bigger focus on running and strengthening, then there is here. I feel like in Europe skill was always valued more than fitness and this could be why the US was ahead for a while. But I think now that some teams and countries here are paying more attention to these areas, then this is why they are becoming so good and will just continue to keep getting better."
ENVIRONMENT: Women soccer is one of the most growing sport business in the world. The last FIFA Women's World Cup was watched by almost 1.5 billion people. Although, the most interesting fact – at least for me – came from the USA where Women's World Cup final was more popular than the men's final in 2018, with the women's game drawing 22% more audience. Why would you say that women's soccer is much popular in the USA than Europe where its popularity is also growing? Is it attractive for young girl to dream about becoming a professional soccer player and are women's soccer players big sport starts in the USA?
"I think that the main reason that women's soccer is more watched and followed in the US, is because a lot more people there acknowledge and respect women's sports and women's athletes, than they do here. I feel like here in Czech people don't take female athletes as seriously and they are always surprised when they see a game and realize that it actually has a lot of quality. I think in the US we are a bit ahead, and people have gotten past that stage where they are surprised with the quality of women's soccer, and have grown to expect it. And for this reason it has gained such a huge following and grown so much in popularity. I think that most of the women on the US National team are now so famous that everyone knows who they are. And all of this then makes it exciting for all of the young girls as they see that there is a future for them in soccer. And the fact that there are so many opportunities in terms of all of the club teams and University teams for which the girls can play, means that there are so many female soccer players in the US now which will only keep pushing soccer to grow even more and more. I definitely do think that Europe is starting to catch up to the US in terms of popularity, and hopefully soon it will be just as big here."
NATIONAL TEAM: We are proud that such awesome player like you decided to represent the Czech Republic. Thank you for that. However, could you please be open with us and share if you had any doubts between the Czech National Team and the National Team of the USA or was it choice without no doubts?
"So to be completely honest, I don't think I ever really had a chance to represent the US. I played with several players that had attended camps and that were part of the youth teams, but I never got invited to any of the camps. I had the coaches ask about me a couple of times, but nothing ever came from it. So I am very grateful to have gotten the opportunity to represent the Czech Republic. It has so far been an amazing experience and I am really proud to be able to represent my parent's home country. And I do think that the Czech National team is getting better and better each year, so I definitely think that it will be an exciting team in the near future."